Mailboxes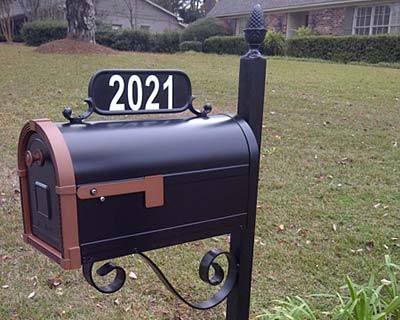 As a homeowner, you design and plan every aspect of your home with a great deal of care and attention to detail. Just as you design all the interior spaces with care, it is a good idea to make sure that the outdoor areas are designed well too. After all, the exteriors have a significant impact on the curb appeal and value of your property.
One of the best ways to add a unique touch to the entryway to your property is to get a wrought iron mailbox installed. We at Golden Fab Custom Ironworks are a leading company in this space and provide excellent, customized solutions to our clients. From our base in Dothan we cater to clients here as well as in Daleville, Geneva, and Headland.
Customized Wrought Iron Mailboxes
Creating superb mailboxes for clients in and around Midland City, Newton, and Slocomb, has helped us build a very strong customer base in these areas. Over the years, our company has provided excellent ironwork mailboxes furniture and similar services to clients in Taylor, and Ozark. A large number of property owners in Enterprise turn to us for all their customized ironwork mailbox requirements and we have a number of new and returning customers.
Metal Mailbox Ideas
We understand that every property will be different and that every client would also have very different requirements and preferences. This is why we focus on customization and ensure that the metal mailbox designs we provide complement the look of your property. For example, if you have wrought iron grillwork gates, our metalwork designers will make sure that your new mailbox design is in-sync with the styling of your gate.
If you need any specific motifs, branding, emblems etc. incorporated into the mailbox stand design and structure, we can cater to these requests as well. The idea is to ensure that your mailbox is truly unique in every way. If you have an existing mailbox and need an ornamental stand installed under it, we have the perfect solutions for you.
Which over 17 years of experience in this industry, we have what it takes to provide outstanding solutions that meet your needs. In addition to the mailbox and the base, we can also provide the lettering and numbers as required. The finishes will match any other metal features that you have in that area.
Metal Mailbox Cost
We not only handle the design and fabrication of these metal mailboxes, but will also install them at the desired spot on your property. Each piece of ornamental wrought iron mailbox is made using the best quality materials and superior workmanship. Since these features are constantly exposed to the elements it becomes necessary to ensure that these aspects are in place.

Our mailbox solutions are truly resilient and the finishes are able to endure temperature changes and exposure to moisture and rain. Quality is something we always focus on and you will find that our wrought iron mailbox cost is very competitive as well.

For any more information about our mailboxes and related solutions, feel free to contact Golden Fab Custom Ironworks at 334-726-4030. You can also use this Contact Us form to send your project details and we will revert shortly.

Click on the images below to view a larger display.


Photo 1

Photo 2

Photo 3

Photo 4

Photo 5

Photo 6

Photo 7

Photo 8

Photo 9