Ironworks Services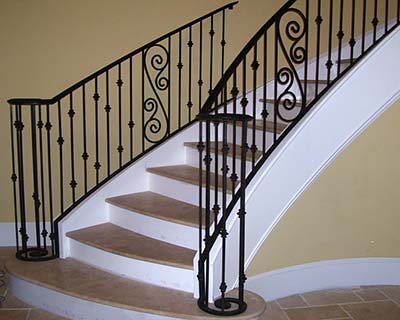 We at Golden Fab Custom Ironworks are a premier company in this industry and provide excellent, customized services to our clients. From our base in Dothan we cater to clients here as well as in Daleville, Geneva, and Headland. Creating superb ironwork interior rails, gates and fences for clients in and around Midland City, Newton, and Slocomb, has helped us build a very strong customer base in these areas.
Over the years, our company has provided excellent ironwork rails, furniture and similar services to clients in Taylor, and Ozark. A large number of property owners in Enterprise turn to us for all their customized ironwork requirements and we have a number of new and returning customers. We offer a range of customized solutions including:
Interior Rails
Wrought iron rail installations are the perfect addition to interior balconies, landings and staircases. Not only are they extremely resilient and beautiful but also last for a number of years, with very little maintenance. If you are looking for stunning and sustainable railings for interior spaces, we can provide you with customized solutions.
We are extremely creative in our approach and have deep knowledge about how iron behaves. This means we are able to fabricate all types of interior railings with elaborate or simplistic designs. Care is taken to ensure that these railings complement the interior styling of your home to perfection. Read More About Interior Rails >>
Exterior Rails
While exterior rails are primarily installed for safety, they are a beautiful addition to your property. If you are in the market for custom exterior rails for an outdoor staircase, balcony, terrace or even a multi-tiered landscape, you are at the right place. Our team of experts will design exterior rails that are customized to your specific needs and the layout and aesthetic of the available space.
We make sure that the styling and design of these rails is in sync with the architectural elements of the structure that stands on the property. The use of high grade materials helps ensure that your railings will last a lifetime with basic maintenance and enhance the curb appeal of your home. Read More About Exterior Rails >>
Doors
When it comes to front doors or even any other doors that lead into your home, their appearance creates a lasting impression on anyone that looks at them. A beautifully designed custom door can be an excellent addition to your home. We provide customized wrought iron door design and installation solutions.
These doors can be made with grillwork or with combination materials such as iron and wood, glass and iron etc. Our creativity and skill in this space allows us to provide our clients customized door installation services at very cost-effective pricing. We work closely with you to understand what your specific requirements are and create masterpieces that will be a true reflection of your elegant taste and style. Read More About Doors >>
Gates
The entryway to your property is one of the first things that visitors to your home notice. In fact, the manner in which this space is designed has a significant impact on the curb appeal of your property. We design and install wrought iron gates of different types and can customize our solutions to your specific requirement.
Whether you need something very simple and basic or more decorative and elaborate, our team of designers is here to provide the best solutions. Our skill and creativity is unmatched in the industry, and we back this with outstanding craftsmanship and superb customer service. Whether you want a main gate, side gate or backyard gate installed, we are the company to call. Read More About Gates >>
Fence
A fence serves a number of purposes. While it increases the security of your property, a well-designed fence will also improve the overall curb appeal of your home. When it comes to fencing, there are a number of different material options to choose from. However, wrought iron fences are elegant, attractive, durable and relatively easy to maintain.
We can customize these features to your specific needs in order to ensure that the installation improves the aesthetics of your property and adds to its value as well. Our team has vast experience in designing and installing wrought iron fences and we can create features that are simplistic or intricate, traditional or modern, all based on your preferences and styling requirements. Read More About Fences >>
Furniture & Miscellaneous
We can design all types of wrought iron furniture pieces and will customize these to your specific needs. Regardless of whether you want tables, chairs, light fittings, benches, fireplaces etc. designed and installed, we can provide you with tailored solutions that are right in line with your needs and budget.
Wrought iron has an intrinsic charm that very few materials can beat. Furniture made of wrought iron is extremely attractive and can withstand the elements well. It's suitable for indoor as well as outdoor use. Whether you want to add a unique look to your patio or want some casual wrought iron furniture for your swimming pool deck, we have the solutions for you. Read More About Furniture & Miscellaneous >>
Mailboxes
A wrought iron mailbox is a great addition to your home. If you have a wrought iron fence or gate, a mailbox designed in the same style can lend a very distinctive look to your property. Since this feature would be custom designed for you, you can choose everything from the size, shape, design and material thickness etc.
Creating beautiful mailboxes with motifs and monograms is our specialty. The use of high-grade materials and exquisite workmanship ensure the beauty and longevity of the features. Our skill and expertise in this industry allows us to create beautiful mailboxes and other miscellaneous items that can be installed in various outdoor and indoor areas of your home. Read More About Mailboxes >>
Ironwork installations require the use of top quality materials and superior craftsmanship and this is something we guarantee. For any more information about our custom ironwork solutions, feel free to contact Golden Fab Custom Ironworks at 334-726-4030. You can also use this Contact Us form to send your project details and we will revert shortly to discuss your requirements.