Wrought Iron Furniture Ozark, AL
If you like to add furniture pieces in your home that exude timeless elegance, then it's time to consider wrought iron furniture. Wrought iron is one of the best furniture materials because it can endure even the harshest elements and last a lifetime. In fact, most of our creations in Ozark, Enterprise, and Dothan are still in their prime condition even after years of constant use and exposure to outdoor elements.
Exceptionally Crafted Wrought Iron Furniture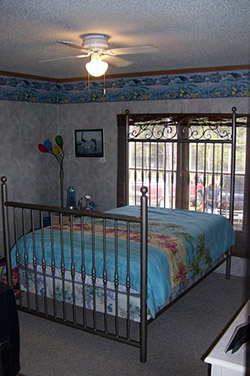 Wrought iron can be twisted, bent, and designed in a thousand ways, but only we at Golden Fab Custom Ironworks can do it with guaranteed commendable results. We are experts in custom ironworks so creating your desired design and type of furniture is an easy task for us.
Some of the wrought iron furniture pieces that we can design and create include:
Cabinets. We can create wrought iron cabinets for all your storage needs. You can request for etageres for your home décor, shelves for your priceless books, or trunks for your loose odds and ends. Some of these can even double as accent pieces in your interiors.


Beds. Your bed can give you much-needed rest so why not choose one that will last a lifetime? Our artisans can work on any type and design of bed that you want, whether it's a daybed, sleigh bed, loft bed, or canopy bed. Would you like a wrought iron headboard, too? We can also create one for you.


Desks. Choose from our wide variety of desk designs that include chef's desks and writing desks. Just tell us your preferences and our artisans will gladly create the best possible wrought iron furniture for your Ozark home or office.


Baker's racks. These racks are used primarily for the kitchen, but our designs are far too beautiful and functional for that area alone. You can use them as organizer or storage in your bedroom, living room, patio, or office.


Chairs. Come and check out our chairs and you'll see why a lot of our Alabama clients prefer these types of wrought iron furniture for their seating areas. Our chairs look so elegant and classic that you and your guests won't be able to stop gazing at them. You can use them in your living room, dining area, patio, and other outdoor living areas.


Tables. Feast your eyes on our exquisitely designed tables that can suit any area of your home. From dining tables, bar tables to bistro tables, we can make them elegant with our custom designs.


Log holders. Our wrought iron log holders can blend well with your fireplace and the overall design of your home for a truly harmonious appeal.
Wrought Iron Brought to Perfection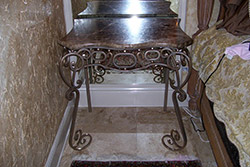 Experts will surely agree that only the hands of master artisans can bring life to wrought iron. You can buy replicas from mass producers of soft steel furniture but these lack the slight imperfections that characterize authentic wrought iron furniture. With us at Golden Fab Ironworks, you can expect finely crafted furniture made from premium wrought iron.
For timeless pieces that will grace your home for a lifetime, just dial 334-726-4030. Our friendly staff will be more than willing to hear your furniture design requirements and offer you our best options. We serve clients from Ozark, AL and surrounding cities.