Wrought Iron Gates Enterprise, AL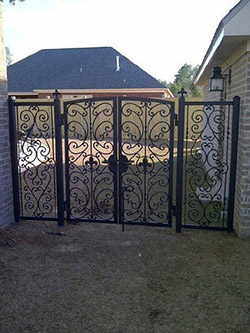 Golden Fab Custom Ironworks has been the company of choice of most property owners in Enterprise, Dothan, and Ozark areas when it comes to securing their homes or properties. Although we are not a technology firm, our offered services and products have helped countless clients improve the security and privacy in their properties. We do this by offering them with creatively designed and carefully installed wrought iron gates.
Why Choose Wrought Iron Gates?
There are a lot of good reasons why you should try wrought iron as the primary material for your gates. Wrought iron is a tough and durable material that makes it perfect for gate and fencing projects. It can withstand the harsh outdoor elements and can even last a lifetime when quality iron is used. Since it requires minimal maintenance effort, you'll save a lot on maintenance cost.
Another great characteristic of wrought iron is malleability. It allows blacksmiths like us to transform it into decorative products like gates, fences, and furniture. Creating customized designs with this material is easy without affecting the quality of the finished product.
Types of Wrought Iron Gates that We Can Create
At Golden Fab Custom Ironworks, we can design and install different types of wrought iron gates for our Enterprise clients as well as clients from nearby cities. With our years of experience in this business, we have already created numerous customized gates for residential properties in these areas. But we also have a long list of satisfied commercial clients who can attest to our capabilities. They avail our services because they know we can provide them with reliable gates that can secure their properties.
Here are some of the wrought iron gates that you can order from us: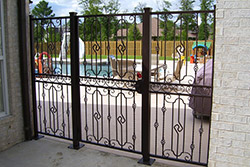 Driveway gates
Single entry/Walk gates
Garden gates
Pool gates
Courtyard gates
Estate gates
Customized Gates Made by Artisans
The great thing about our customized gates is that they are handcrafted by our experienced blacksmiths. Our memberships with Artist Blacksmith Association of America (ABANA) and National Ornamental and Miscellaneous Metals Association (NOMMA) are proofs that our people are experts in their field. From the conceptualization and design to construction and finishing touches, you are assured that you'll get beautiful wrought iron gates that will last for decades, without needing any major repair or replacement. We can guarantee these benefits because of our adherence to high quality standards. In fact, all of our creations are quality checked before they are delivered or installed to our clients' properties.
You can also choose the features and other specific mechanisms for your gates. We can create sliding, swing, or folding gates, depending on the size and type of property where they will be installed. For estate and driveway gates, we can design automated wrought iron gates to provide you maximum protection.
Unique and Elegant Gate Designs
If you want elegantly designed wrought iron gates, contact us at Golden Fab Custom Ironworks today. We have in our sample portfolio uniquely designed gates for residential and commercial properties in Enterprise, AL and nearby areas. With us, you'll get highly personalized gates that will also improve the aesthetics and security in your property.
Call us at 334-726-4030 for a free project estimate.