Wrought Iron Fencing Dothan, AL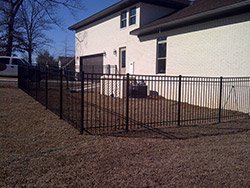 Residents and owners of commercial properties in Dothan, Enterprise, Ozark, and nearby areas deserve safe and secure premises that also look great. Achieving this delicate balance of beauty and functionality is what we at Golden Fab Custom Ironworks specialize in. One way we do this is by creating decorative wrought iron fencing that makes them add up to any property's aesthetic merits.
The great thing about the wrought iron fences that we design and fabricate is that they can match any existing architectural design or theme. They also offer unmatched durability, security, and sense of privacy to any property in Dothan and neighboring areas in the state of Alabama. Connect with us soon and let us discuss your design ideas for your dream wrought iron fencing.
Functions of Fences
Fences have long signified and provided sense of security and privacy to properties. They also serve as boundaries or demarcation lines between properties. Fences likewise offer protection against trespassers and burglars who would otherwise have to walk straight into one's home or commercial property.
Since they offer protection and privacy, fences should be constructed from heavy duty materials so they would last long and serve their purpose of stopping intruders. One excellent material from which fences are made is wrought iron.
Using wrought iron fencing instead of ordinary and traditional materials like concrete and wood will make your property more secured without sacrificing aesthetics. With wrought iron as primary material, we can achieve specific and highly intricate designs that clients like you may want. We can create an antique look or go for more modern or contemporary appeal if you want. We can also fabricate according to your desired size or height. Your imagination is the only limit.
Why Choose Our Wrought Iron Fencing?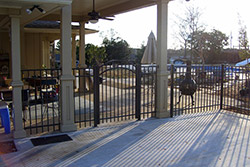 One quick look at our portfolio and you will surely notice the stunning beauty and excellent build quality of our wrought iron fencing – something that you won't easily find in fences made by other companies.
We can also design, create, and install various types of fences using wrought iron. The fencing that we create can be installed on any type of property. For homes, we can create wrought iron fencing for pools to serve as enclosures. We can also fabricate fencing for your lawn or garden to protect your plantings from animals or toddlers. We can likewise create fencing for water features, such as koi ponds and waterfalls. Moreover, we can design and make heavy-duty fencing for your entire property as perimeter fencing.
The beauty of the fencing that we create is that, regardless of the size of the area, we can install it quickly and securely. We can also personalize the designs of the fences that we're tasked to create if clients have specific design ideas in mind. We can also suggest the best designs that will suit the overall theme of our client's property. The bottom line is that we can build wrought iron fencing that will perfectly serve our clients' needs.
A Perfect Fusion of Beauty, Functionality, and Security
Our wrought iron fencing can provide optimum security and, at the same time, timeless beauty and unmatched functionality. We achieve this by using only high-grade wrought iron for our fencing projects. We have skilled fabricators working for us, as well as creative designers with solid experience and skills. With us, you can expect to have extraordinary fencing that will make your property standout effortlessly.
Visit us at our shop at Dothan, AL or call us at 334-726-4030.