Custom Ironworks
Our Services
At Golden Fab Custom Ironworks we provide our clients with the following custom iron works services: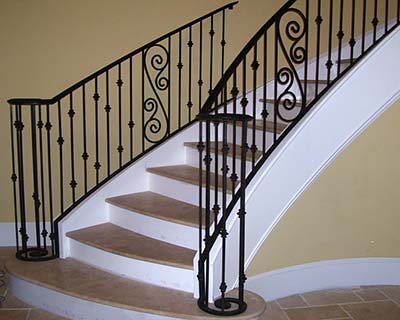 Interior Rails: we will custom design and fabricate your interior railings. We understand that homeowners like to have unique features in their homes and this is a great way to create something that no-one else will have. Read More >>
Exterior Rails: would you like to have input into the design of your exterior railings? Let us help you make a real statement for the exterior of your home by custom designing and making your railings for you. Read More >>
Doors: another great way to add a special feature to your home that will set it apart from the rest is with a wrought iron door. Talk to one of our friendly staff members today and we will get you started and make your visions a reality. Read More >>
Gates: not only does a gate provide security to your home but it can also be custom fabricated to look amazing as well. We can design a gate that complements the style of your property, adds some extra appeal, as well as doing its job as a security feature. Read More >>
Fence: are you in the market for some wrought iron fencing? Well you have come to the right place. We will custom design and fabricate your fencing. Whether its pool fencing or security fencing; you will be delighted with having limitless design possibilities. Read More >>
Furniture & Miscellaneous: at Golden Fab Custom Ironworks we can make any furniture piece made from wrought iron. It's a matter of you telling us what you have in mind and let us take it from there. From fireplaces, benches, tables, chairs, bed frames to light fitting; we can do it all. Read More >>
Mailboxes: we have a range of wrought iron mailbox designs that you can choose from. Or perhaps you would like help in designing your own mailbox. The choice is yours and we will see that you get a beautifully made strong standing mailbox for your property. Read More >>
We Provide Services to the Following Cities and Towns in AL:
Headland, AL
Midland City, AL
Newton, AL
Taylor, AL
Slocomb, AL
We service all of the tri state area, if you don't see your city listed then please call us anyway, chances are we service you.